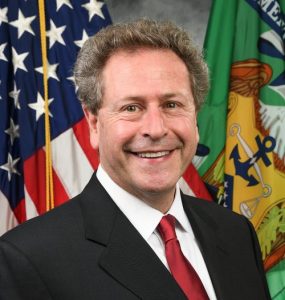 VACANT
DEPARTMENT OF TREASURY
CHIEF FINANCIAL OFFICER, ASSISTANT SECRETARY FOR MANAGEMENT
David F. Eisner was sworn in as Assistant Secretary of the Treasury for Management on April 30, 2018
Mr. Eisner is responsible for leading and executing Department-wide operations, including formulation of the Department's budget and strategic plan. He also oversees data-driven reviews of policy and operational units across the Department and within Treasury's bureaus. Prior to coming to Treasury, Mr. Eisner was a private investor and the executive chairman of Compliance Science, Inc., a technology company focused on regulation of the financial industry. He founded and served as the chief executive officer of TheMarkets.com LLC, a financial software and data firm, which was sold in 2010. He spent 12 years at the investment bank Jefferies & Company, including six years as executive vice president in the office of the chairman.
Mr. Eisner earned a B.S. in accounting and government from American University and he later served on the Board of Trustees. He earned a J.D. from Boston University School of Law, where he was an editor of the American Journal of Law and Medicine.
He is married to Karen Lehmann-Eisner, and they have two sons, Joshua and Jason.