Enterprise Risk Management
The Enterprise Risk Management Priority Area focuses on promoting and facilitating a risk-aware culture across the Federal Government through comprehensive strategy-setting supported by quality data.
Goal Statement
Promote and facilitate a risk-aware culture across the Federal Government by developing a Federal Enterprise Risk Management (ERM) framework and strategies. Promote integrated strategy-setting with performance and cost management practices that are supported by quality data that agencies can rely on to manage risk in creating, preserving, and realizing value. Drive resource prioritization and allocation by leveraging risk-informed decisions across the Federal Government.
Challenges
The Federal Government provides essential programs and services to the American people in an environment of increasing complexity, disruption, and rapid change. Agencies face greater scrutiny and expectations from stakeholders to manage these risks more effectively, yet the government, by and large, has adopted a risk-averse culture that has limited discussions about risk appetite and tolerance. Budget uncertainties present agencies with difficult decisions on priorities and trade-offs, especially when faced with increasingly burdensome compliance and reporting mandates. Without risk-informed decision-making, these tradeoffs are often made at lower levels of management.
Opportunities
Approaching the 3-year anniversary of the introduction of ERM in OMB guidance presents an opportunity for the Federal Government to greatly advance the maturity of ERM to improve program mission accomplishment, contingency planning while driving risk-informed decision making, and resource prioritization.
The Enterprise Risk Management Priority Area strategic approach is featured below: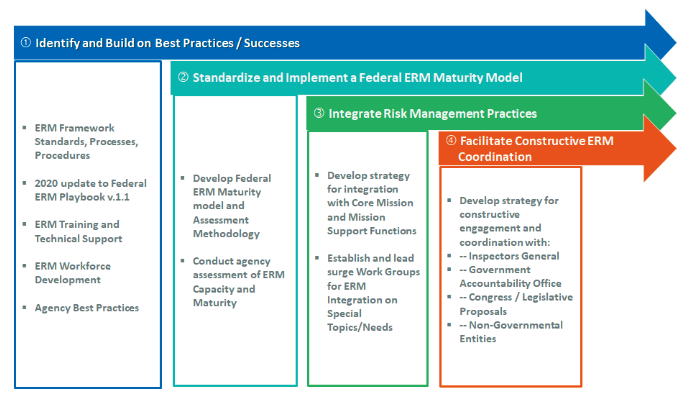 Enlarge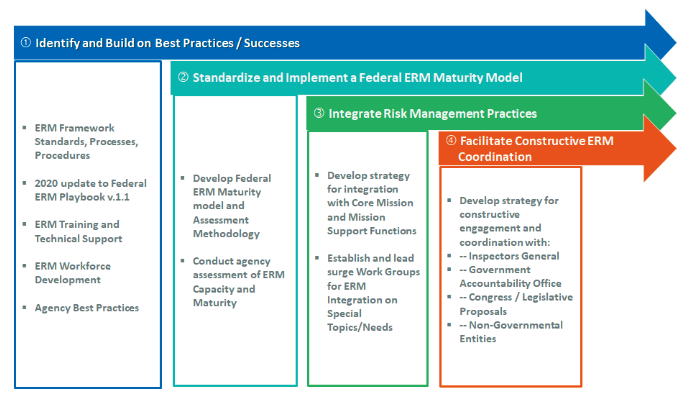 Below is the Executive Steering Committee organizational structure for the Enterprise Risk Management Priority Area: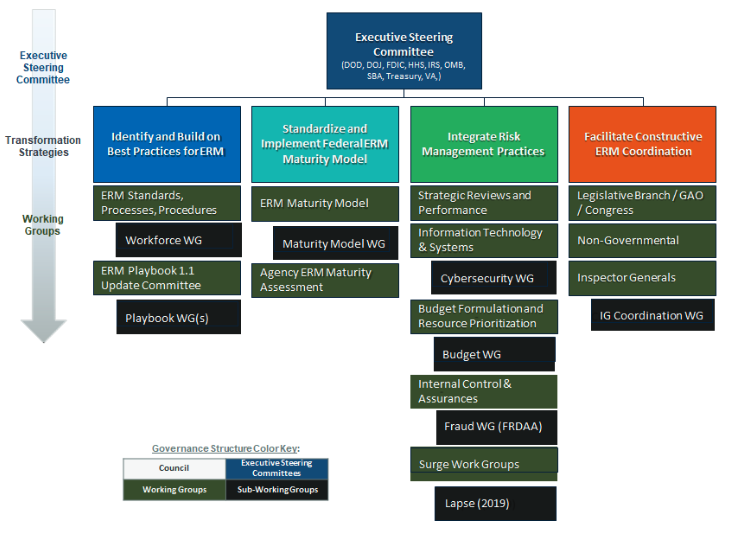 Enlarge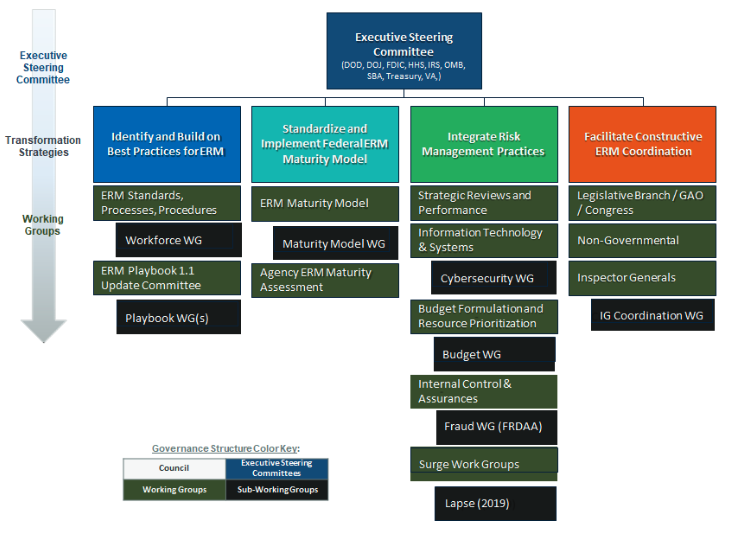 The Executive Steering Committee membership for the Enterprise Risk Management Priority Area includes:
Office of Management & Budget
Department of Defense
Health and Human Services
Department of Treasury
Internal Revenue Service
Department of Veterans Affairs
Federal Deposit Insurance Corporation
Small Business Administration
Department of Justice