ALUMNI SPOTLIGHT: SANDRA OLIVER SCHMIDT
Posted By
Annette Maldonado
on August 23, 2018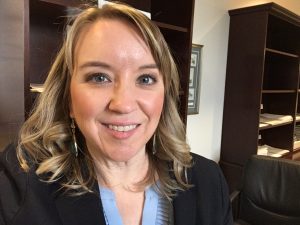 CXO Fellows Cohort: FY 15-16
Functional Group: Procurement
Current Position: Contracting Officer
Agency: U.S. Department of Homeland Security (DHS) – Federal Law Enforcement Training Centers (FLETC)
We caught up with Sandra Oliver Schmidt in a recent event for the current cohort at the Federal Law Enforcement Training Center (FLETC). The center offers law enforcement training to federal law enforcement personnel in the DC region. Fellows had the opportunity to tour the facilities, interact with leadership, and watch demonstrations. Thank you Sandra for organizing this great event!
We asked Sandra about her career:
I have been in the procurement business for 12 years and specialize in fixing broken contracts. I believe in working smart, not hard. If there is an easier, faster way to do something while staying within the confines of the law, then I am going to try it. I provide consistency to both contractors and government customers and often help the two sides forge positive working relationships, which lead to effective contracts that support the mission.
I fell into this career by accident. Thanks to a graduate school friend and an alumnus of our program at George Mason University (GMU), my first job out of college was as a Contract Specialist with the Transportation Security Administration (TSA), which is part of the U.S. Department of Homeland Security (DHS). When I started college, neither of these organizations existed. Suddenly, after graduation, I am working for them! TSA was only five years old when I joined. There was a lot to do and learn and my six years there were an absolute whirlwind that I wouldn't trade for anything.
After TSA, I spent a short period of time working at an independent government corporation providing humanitarian aid overseas. I returned to DHS (at a different component) because the mission at DHS simply felt more right to me. I currently work at the Federal Law Enforcement Training Centers at a field site in Cheltenham, Maryland.
How did the CXO Fellowship advance your career as a public servant?
During the fellowship, we received a presentation from Josie Beets in the General Service Administration's Office of Governmentwide Policy on how to effectively network and build our brand. After the CXO Fellowship Program ended, I applied what I learned in that session to take advantage of a key professional development opportunity. I pitched my management to have the DHS Chief Procurement Officer select me as one of the two DHS procurement representatives to serve on the Office of Management and Budget (OMB), Office of Federal Procurement Policy's (OFPP) Front Line Forum. Serving in this capacity was a great opportunity because OFPP issues policies on how all Federal Agencies purchase goods and services. The Front Line Forum consists of non-supervisory contract professionals from across the government who provide OFPP feedback on policies under consideration. The selection of DHS representatives was a competitive process. I applied Josie's guidance by proactively seeking the opportunity and carefully crafting my "elevator pitch." I perfected telling my story by delivering it first to my management for critique and pointers. In the end, I was selected to serve! The knowledge I gained in the CXO Fellows program was critical to this achievement and I do not believe I would have been selected without it.
What did you gain from the program?
I gained insight into what the executive branch looks like outside of my own agency. I also learned about challenges faced by other agencies and the creative ways they are trying to meet those challenges. It made me think about how I could find creative solutions to similar issues I face in my own job.
How did the program enable you to better contribute to your agency?
Because of my participation in the program, I am able to better support activities to promulgate the mission of FLETC and the Department of Homeland Security. A few years after finishing the program, I approached my management about hosting the current CXO Fellows at our law enforcement training facility in Maryland. By helping the CXO Fellows program, I knew I would also be helping my agency by spreading the word about the services we offer. I also did my part to support the DHS Chief Procurement Officer who, only two months prior, had hosted the CXO Fellows. She spoke about procurement innovation at DHS and is actively recruiting other procurement professionals to join DHS. I subsequently passed along the same message during the site visit in Maryland when talking about one of the many innovative procurements happening at DHS.
What would you tell people who are interested in the program?
First, I would say I highly recommend the program. I appreciated how all of the presenters were actual government employees and not simply instructors. I felt this led to a richer learning experience. Second, I would tell them they should definitely apply and begin working on their LinkedIn pages. You want to ensure you keep in touch with your cohort throughout the program and when it ends. You are going to meet a lot of interesting people who are doing things at agencies you are not familiar with. Having connections with people outside your agency and outside your career field will provide a rich source of information when trying to solve problems within your own agencies and when looking for or recruiting for jobs.
How can other Alumni get involved with the program?
I hope other alumni will consider hosting the fellows at their agency or offer to speak to them regarding interesting projects or initiatives at their agencies. I also think it would be great if alumni joined the CXO Fellows LinkedIn page and posted about some of the things happening at their agencies as well as seminar, conference, or even recruitment events that others may be interested in attending.